INDUSTRIA PERU
Peru, manufactures for the world
INDUSTRIA PERU is the name of the event that connects peruvian industry with buyers in America, Europe, Africa and Asia.
10 YEARS CONECCTING BUSINESS
US$ 15 million
516 business meetings 66 exporters
Supported by Ministry of Foreign Trade and Tourism of Peru,
INDUSTRIA PERÚ is yearly event of Industry of Peru featuring
the following products categories: cosmetics and , packaging,
natural ingredients, wood manufacturing, construction and
finishing materials and mining suppliers,
US$ 41 million
774 business meetings 72 exporters
Every year, this event gather peruvian companies with buyers
from all around the world. The buyers are officialy invited
by Peru Export and Tourism Promotion agency - PROMPERÚ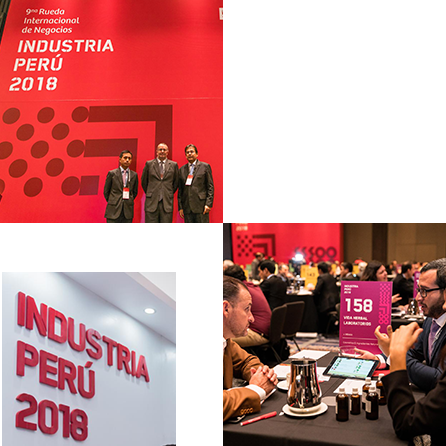 US$ 89 million
1800 business meetings 144 exporters
In his 2016 edition, 144 Peruvian export companies of the above
subsectors participated in the event, meeting face-to-face
with 150 international buyers from 25 countries in the two-days
event, drawing business projects account for US$89 million.
US$ 103 million
1850 business meetings 165 exporters
INDUSTRIA PERÚ serves as a great platform for buyers from
all around to world to know and explore what the industry
of Peru can offer to the world!
US$ 107 million
2574 business meetings 241 exporters
Apart from the business matching, you will have the opportunity
to visit to factories and also lunch /cocktail social events.
ACTIVITIES
Esta edición participa en:
Negotiation, Logistics and Pricing Workshops
participating sectors
Peru, manufactures for the world
food industry
cosmetics and health
MINING SUPPLIERS
construction materials and finishes
Exhibitors
2020 exhibitors